Whether you embark on a weekend, 5-day, or week-long escape to the rugged and breathtaking landscapes of Michigan's Upper Peninsula, we have you covered. It doesn't matter if you are a nature enthusiast, a history buff, or just seeking a serene retreat; this choose-your-own-adventure itinerary promises an unforgettable adventure. Strap in for a whirlwind journey through scenic vistas, charming towns, and outdoor wonders with our Upper Peninsula Michigan itinerary DIY.
Step One: Length of Stay
The journey's first step is to decide how long your adventure will last. At Freshwater Vacation Rentals, we can accommodate most travel lengths. From weekend getaways to a whole week of vacation, we have an incredible selection of vacation rentals for you to choose from.
Step Two: Choose a Home Base
Next, you must choose a home base for your Upper Peninsula holiday. A cozy cabin is perfect for those couples who want to reconnect. Large lakeside manors are ideal for epic family vacations. Find a UP vacation rental that fits the needs of your splendid getaway.
Step Three: What to Do?
There are many amazing activities, things to do, and places to see on the Upper Peninsula. Michigan is a four-season destination offering visitors something to do all year. Select one to two of these incredible activities to add to each day of your trip. Take the weather conditions into account and estimate the needed amount of time for each activity. In addition to the things to do listed below, there are also museums, local shops, and more.
Outdoor Adventures
Rare Sights
Winter Snow Sports
Step Four: Where to Eat?
Now that you have decided on which activities will fill your days, it is time to add where you would like to eat to your Upper Peninsula Michigan itinerary. There are a plethora of great restaurants, wineries, and breweries to explore.
Step Five: Enjoy Your UP Vacation!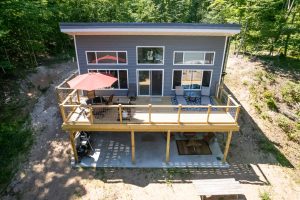 You are set up for success now that you have a complete Upper Peninsula Michigan itinerary for your next trip. Pack your bags, load the car, and start your adventure ASAP!
If you want to explore other Michigan road trip options, click here. We have vacation rentals throughout the entire state, and we can't wait to help you find the ideal accommodations for your needs.