Renting out your vacation home can be a rewarding investment, but managing it on your own can be overwhelming. That's where property management services, such as Freshwater Vacation Rentals, come in. You could even create a printable checklist from our list below!
Find the Right Property Management Company for Your Vacation Rental
1. Local Expertise: Look for a company with in-depth local market knowledge. They should understand the area's rental trends, pricing, and regulations.
2. Marketing Strategies: A solid online presence is crucial. The company should have a robust marketing plan to attract guests through various channels, including online travel agencies, email marketing, and social media.
3. Pricing Optimization: The right company will help you maximize your rental income by setting competitive prices based on market demand and seasonality. You can even ask about what pricing tools the company uses to automate the process.
4. Property Maintenance: They should have a proactive maintenance plan to ensure your property is in excellent condition for guests. This includes regular inspections, repairs, and cleaning. Find out if keyless entry is something they maintain.
5. Guest Communication: A responsive management company should handle guest inquiries, bookings, and support during their stay. Good communication is critical to positive guest experiences and rebooking.
6. Legal Compliance: Ensure the vacation rental management company follows all local laws and regulations related to vacation rentals. This includes taxes, permits, and safety requirements.
7. Screening Guests: An effective management company will have a guest vetting process to ensure a reliable and respectful clientele.
8. Accounting and Reporting: The company should provide transparent financial reporting so you can easily track your income and expenses.
9. Local Connections: A good management company should have connections with local service providers, such as maintenance teams, housekeeping, contractors, and vendors.
10. Owner Portal: Access to an owner portal to track bookings, reservations, and property performance is essential.
11. Transparent Fees: Be clear on their fee structure. Know what services are included and any additional costs.
12. Contract Terms: Review the contract thoroughly, paying attention to terms, termination clauses, and performance metrics.
13. References: Don't hesitate to ask for references from other homeowners who use their services. It's a great way to gauge their reputation.
14. Property Inspections: Regular property inspections are essential to maintain the quality of your vacation home. Ensure the management company conducts these on a routine basis.
15. Emergency Response: Discuss how the company handles emergencies or urgent situations, like property damage or unexpected guest issues.
Freshwater Vacation Rentals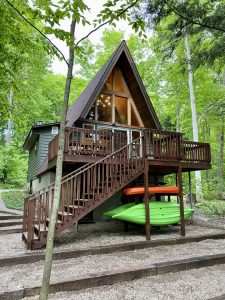 At Freshwater Vacation Rentals, we collaborate closely with vacation rental property owners to open up their spaces to others, offering an opportunity for added income that aids in maintaining the property at a guest-friendly standard. We firmly believe owning a vacation rental should be an enriching experience, not a burdensome one. Our commitment is to streamline and enhance the rental management process, making it straightforward, enjoyable, and ultimately profitable.
We provide comprehensive vacation rental management services across Michigan, boasting a substantial portfolio of vacation rentals in various regions, including Northern Michigan, the Upper Peninsula, Western Michigan, and Eastern Michigan.
By carefully selecting the right vacation rental management company, you can enjoy a stress-free experience as a homeowner and provide a top-notch experience for your guests. This partnership ensures your property is well taken care of, remains competitive in the market, and generates the best possible return on your investment.
You can click below to find more details about our property management services or to set up a free consultation.