The Wolverine State borders three of the Great Lakes and has over 3,000 miles of shoreline. Every lighthouse in the Upper Peninsula helps thousands of shipping vessels navigate the waters near our state and provides a collection of beautiful sights for visitors. See how many you can discover on your trip to the UP!
For more info about how to make the most of your Michigan getaway, be sure to request access to our complimentary Vacation Guide!
Discover a Lighthouse in the Upper Peninsula
Crisp Point Lighthouse
Crisp Point Lighthouse sits alone on the shore of Lake Superior near Vermilion Point Nature Preserve and Tahquamenon Falls State Park. This early 20th-century building's grounds are always open and boast fantastic views of the lake. You can also explore the surrounding beaches. 
Point Iroquois Lighthouse
Point Iroquois Lighthouse is a beautiful historical landmark sitting on a point overlooking a channel running between the U.S. and Canada. You can take a self-guided tour of the building and the grounds, making it a great place to explore during the afternoon, especially if you have kids.
Grand Island East Channel Light 
This unique lighthouse on the Upper Peninsula lies right across the water from Sand Point. You can enjoy the view of Grand Island East Channel Light on a quick stop in between Munising and Pictured Rocks National Lakeshore. 
Au Sable Light Station
The Au Sable Light Station is the tallest lighthouse on the Upper Peninsula of Michigan. This majestic structure sits on the northern point of Pictured Rocks National Lakeshore and offers miles of hiking trails nearby.
Menominee North Pier Lighthouse
The Menominee North Pier Lighthouse stands guard at the entrance to the Menominee River. This small structure is easily viewable from the Lighthouse Ann Arbor Park along the Michigan-Wisconsin border, and you can walk out along the pier to get a closer view.
St. Helena Island Light 
St. Helena Island sits off the coast of the UP near the Mackinac Bridge. The lighthouse on the island overlooks the meeting point of Lake Huron and Lake Michigan and includes a nature preserve that's perfect for families. You can only access the island by boat.
Plan Your UP Adventure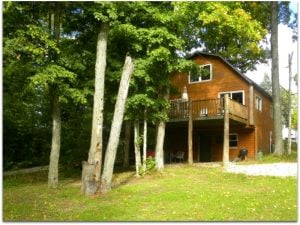 Freshwater Vacation Rentals features an extensive collection of properties in the Upper Peninsula of Michigan. Our rustic cabins and homes all have excellent locations that fit the type of vacation you want. So, whether you're searching for a quiet escape near a remote lake or want to be near the action of Traverse City or Mackinac Island, you'll find the perfect home for you and your family. Check out all of the fantastic activities in the UP and start planning your trip today.
Book your rental with us today! We look forward to welcoming you to the Freshwater Vacation Rentals family.