After a day of exploring all of the outdoor adventures that the UP has to offer, you'll need to fill up with a tasty bite to eat. These restaurants in the Upper Peninsula of Michigan features an eclectic mix of cuisines from around the world! Trust us; you won't want to miss out on grabbing breakfast, lunch, or dinner from these fantastic dining establishments.
For more things to do and places to see during your trip, request access to our complimentary Vacation Guide!
The Best Restaurants in the Upper Peninsula of Michigan
Upper Crust Cafe Bakery & Deli – Manistique
The Upper Crust Cafe Bakery & Deli is one of the best restaurants in the Upper Peninsula of Michigan to grab a sandwich in between outdoor adventures. Soups, salads, wraps, and breakfast items are also available at this waterfront deli.
The Brownstone Inn – Au Train
If you're searching for fine dining in the Upper Peninsula, The Brownstone Inn offers a menu full of classic American fare. Steaks, burgers, and seafood are the staples here, especially the local Whitefish when it's in season.
Tip: This UP restaurant closes every winter from the beginning of November through the beginning of December.
Hilltop Restaurant – L'Anse
The Hilltop Restaurant in L'Anse features an array of food. From breakfast to dinner and everything in between, you'll find something for everyone in the family. One thing's for sure about this comfort food establishment—their gooey sweet rolls are to die for (trust us)!
Lagniappe Cajun Creole Eatery – Marquette
For a truly unique dining experience in the UP, head to Lagniappe Cajun Creole Eatery. This Louisiana-themed eatery hidden in the heart of downtown Marquette serves up tasty authentic bites like fried alligator, gumbo, po' boys, and jambalaya. This is one of the best restaurants in the Upper Peninsula of Michigan if you're in the mood for some gourmet Southern cuisine
Steinhaus – Marquette
Take a culinary journey across the Atlantic to a joint serving classic German cuisine. Here at Steinhaus, you can savor tasty wursts, wiener schnitzel, and a selection of delicious German beers. The decor may be lacking at this Upper Peninsula restaurant, but the flavors are alive and well. It's also right around the corner from Lagniappe!
Rice Paddy – Marquette
Creole, German, and Thai food—Marquette offers a tasty tour of the world! The Rice Paddy sits a couple of miles up the road from Steinhaus and Lagniappe next to Northern Michigan University's Superior Dome. This family-owned restaurant serves up authentic Thai cuisine, including pad thai and plenty of beef, chicken, and shrimp dishes. 
Harbor Haus Restaurant – Copper Harbor
If you're staying up in the Eagle Harbor area, head north to Copper Harbor for a unique and exciting dining experience. The Harbor Haus Restaurant features upscale dining on the shores of Lake Superior. German and Austrian flavors are evident with an abundance of meat and potatoes dishes on the menu. No wonder why this is one of the best restaurants in the Upper Peninsula of Michigan.
Village Pizza – Naubinway
Who doesn't love a hot, cheesy pizza after a long day of exploring the great outdoors? Well, Village Pizza is a great place to stop and grab a pie (or two) before heading back to your Freshwater Vacation Rentals property. Check out the menu and restaurant updates on their Facebook page!
Plan Your UP Getaway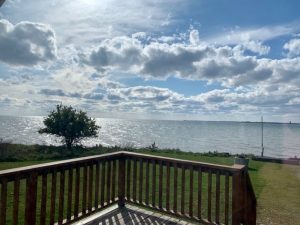 Freshwater Vacation Rentals has an incredible list of rentals in the Upper Peninsula for all of your UP adventure needs! Whether you're staying near the Mackinac Bridge or in the heart of the Upper Peninsula, you'll find the perfect home for you and your family. While you're searching, check out our UP Things to Do page!
Start planning your adventure today by booking one of our properties! We look forward to welcoming you to the Wolverine State.