The Wolverine State is home to many incredible sights, but few are as breathtaking as the Northern Lights in Michigan. These gorgeous dancing lights grace the night sky with a picture of indescribable beauty. Keep reading to discover the best places and times to view this amazing sight. 
For more ways to make the most of your Michigan getaway, be sure to request access to our complimentary Vacation Guide! 
How to View the 
Northern Lights
in
Michigan
– The Upper Peninsula
What is this incredible natural phenomenon, and where can you view it? We give you everything you need to know about experiencing the Northern Lights in the Upper Peninsula of Michigan! 
What Are the Northern Lights?
The Northern Lights, or Aurora Borealis, is a naturally occurring collision between fast-moving particles in space and the nitrogen and oxygen gases in the atmosphere. Yes, that's a lot of boring science talk, but when it comes down to it, these reactions create a stunning masterpiece of lights dancing through the sky. Latitude and low light pollution are the best indicators for experiencing this natural phenomenon, and that's why the Upper Peninsula is the perfect place in the Wolverine State for viewing.  
Where Can I View
the Northern Lights
?
The upper peninsula is usually the best place to view the Northern Lights in Michigan. With hundreds of miles of shoreline bordering Lake Superior, you can find endless opportunities to watch these stunning displays. Make sure you choose a cool and clear night and look out across the horizon. It's truly a special experience you won't soon forget.

When Can I View the Northern Lights in Michigan?
You can typically view the northern lights in Michigan from August through April (mainly cold months), although April, October, and November are the peak months for seeing the northern lights.  
Tip: You'll want to bring your camera with you, especially if it takes high–quality photos. Capturing a scene of these magical dancing lights is a free souvenir that you can treasure forever. 
Book Your Freshwater Property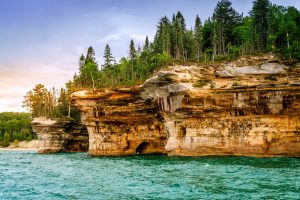 Freshwater Vacation Rentals is the key to your perfect getaway to the Wolverine State! Our line of cabins and cottages offer locations around the entire state, from the wild shores of the Upper Peninsula to the lush, serene forests of Eastern Michigan. Check out our UP Things to Do page for more ways to experience this unique slice of wilderness. There's something for everyone in Michigan! Also check out our cabin rentals in Northern Michigan. 
Start planning your ultimate fishing excursion today by booking one of our properties. We look forward to welcoming you to the Freshwater family!