Looking for an outdoor adventure? North Michigan is the place to be! Northern Michigan offers something for everyone with its pristine lakes, towering forests, and rolling hills. Whether you're a nature lover or a thrill seeker, you'll find plenty of activities to keep you busy during your stay. Read our North Michigan Travel Guide to find out about a few of our favorite towns, what do in them, and why they stand out from everything else to do in the Wolverine state!
To find more places to eat and drink like a local, you can fill up your glass with tons of ideas from our Michigan Vacation Guide!
The Only North Michigan Travel Guide You Need
Traverse City
View this post on Instagram
Traverse City should definitely be on your list if you're planning a trip to northern Michigan. This picturesque town is situated on the shores of Lake Michigan and is home to some of the best breweries and wineries in the state. In addition to its many vineyards, Traverse City also offers a variety of outdoor activities, including hiking, biking, and kayaking.
Traverse City is home to the Traverse City Film Festival, an annual affair for all cinephiles! Organized by acclaimed filmmaker Michael Moore, the film festival helps to keep the local art scene vibrant and preserve the historic downtown State Theatre as an art-house movie theater.
Charlevoix
Just a short drive from Traverse City is the charming town of Charlevoix. This town is known for its beautiful scenery and is home to several parks and nature trails. Charlevoix is also a great place for fishing and boating enthusiasts. If you're looking for an adrenaline rush, you can try your hand at zip lining or rock climbing.
Sandwiched between Lake Charlevoix and Michigan, Charlevoix is best known not for its fishing but for its unique architecture. The Earl Young Mushroom Houses are a series of 31 structures built by American architect Earl A. Young over a 52-year period. Most of the homes are built with stone and exhibit a style best equated with the hobbit holes of J.R.R. Tolkien's The Shire.
Cheboygan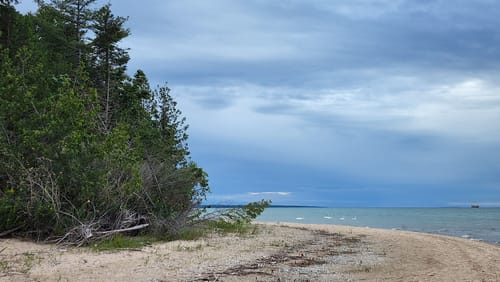 Cheboygan is another great option for those looking to explore North Michigan. This town is located on the shores of Lake Huron and is home to various outdoor activities. Cheboygan is a popular destination for fishing, hunting, and camping. Cheboygan is known for being on the Straits of the Mackinac, both beautiful and vital to intercoastal shipping.
Cheboygan State Park is a great attraction if you want to visit the Lake Huron area year-round. There is a public beach and plenty of beginner-friendly hiking trails to take the whole family on.
Kalkaska
View this post on Instagram
Kalkaska is a great option for those looking to get away from it all. This small town is located in the middle of North Michigan and is home to several state parks and forests. Kalkaska is a popular destination for snowmobiling and cross-country skiing, but is best known for its trout fishing.
Kalkaska hosts the National Trout Festival every year in the last week of April for the last 80+ years! While the tournament is all about catching trout, it is also a celebration of the local Kalkaska community with a Grand Royale Parade, classic car show, and pizza eating contest.
Houghton Lake
Houghton Lake is a beautiful lake located in northern Michigan. This lake is popular for fishing, swimming, and boating. Ice fishing is a popular pastime on Houghton lake, which is stocked with fish such as lake trout, perch, crappie, Northern Pike, and walleye.
If you're going to Houghton Lake, you are going to have fun outside, so be sure to explore the best ORV trails in Michigan. Whether you have your own all-terrain vehicle (ATV) or need to rent one, this is why you come to Houghton Lake. Alternatively, there are a lot of disc golf and golf courses if you prefer to keep your clothes clean.
Petoskey
View this post on Instagram
Petoskey is a beautiful city located on the shores of Lake Michigan. This city is home to several parks, beaches, and golf courses. It is best known for the unique Petoskey stones from Pleistocene glaciers formed over 2 million years ago!
Petoskey is not a large city but it is a charming community with amazing views of Little Traverse Bay and is defined by Victorian architecture that dots the skyline. The best way to explore Petoskey, MI is by going downtown and walking through the historic Gaslight Shopping District. There you will find dozens of great shops, amazing restaurants, and beautiful buildings that you will not find anywhere else in Northern Michigian.
Where to Stay in Northern Michigan
Plan the ultimate Northern Michigan vacation with us! Our collection of cottages and homes here at Freshwater Vacation Rentals features a variety of sizes and locations in our region, from the sandy shores of Traverse City to the gorgeous forests of Kalkaska. We love it here, and we hope you will too!  
Start planning your getaway today by booking one of our properties. We look forward to welcoming you to the Freshwater family.