California, Oregon, and Michigan—what do these three states have in common? They are among the top producers of wine in the country! While the Wolverine State is a newcomer to the scene, you'll find plenty of cutting edge vineyards around the entire mitten. Keep reading to discover the top Northern Michigan wineries that we recommend visiting on your trip!
For more information on the best things to do and places to see during your trip to the Wolverine State, request access to our complimentary Vacation Guide.
The Top Northern Michigan Wineries
1. Chateau Fontaine – Leland Township
You'll find Chateau Fontaine nestled on a large plot of old farmland in between Lake Leelanau and Lake Michigan. This is one of the best Northern Michigan wineries on the Leelanau Peninsula, featuring 30 acres of vineyards that produce Chardonnay, Pinot Gris, Merlot, and Pinot Noir among others.
2. Verterra Winery – Leland
Verterra Winery's tasting room in the heart of Leland, MI, might be small, but it packs in plenty of great wines. Sample a variety of reds, whites, sparkling wine, hard cider, and other locally produced beverages at this fantastic Leelanau Peninsula winery. They also have an event space in nearby Northport on the grounds of their vineyard.
3. Brys Estate Vineyard and Winery – Traverse City
Brys Estate Vineyard and Winery is a must-visit if you're staying in the Traverse City area. This is one of the most beautiful Northern Michigan wineries with an incredible setting on the Old Mission Peninsula. The opulent tasting is the perfect place to enjoy one of their award-winning wines.
4. Mari Vineyards – Traverse City
When strolling the grounds of Mari Vineyards, you'll have to remind yourself that you're not in Italy. This stunning winery features a beautiful brick building with ornate furnishings, a wine cave, a tasting room, and a large outdoor area where you can sip one of their award-winning wines.
5. WaterFire Vineyards – Milton Township
WaterFire Vineyards is a fantastic place to savor some of the best wines in Northern Michigan. You can sip one of their award-winning white wines in their inviting indoor/outdoor tasting rooms!
6. Left Foot Charley – Traverse City
While Left Foot Charley's tasting room may not have the same idyllic setting as some of the other Northern Michigan wineries on this list, this innovative wine and cider haven hosts fantastic tasting tours. It's also two miles from downtown Traverse City!
7. Walloon Lake Winery – Petoskey
If you're staying between Traverse City and the Mackinac Bridge, the Walloon Lake Winery is your spot. This winery has a rustic-themed tasting room where you can sip some of their small-batch wines. 
Plan Your Northern Michigan Escapade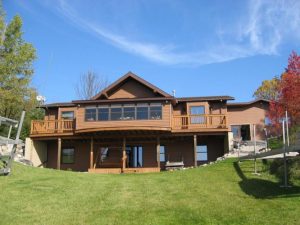 If you want to find the perfect vacation rental in the Wolverine State, look no further than Freshwater Vacation Rentals! We have an extensive collection of properties in every corner of the state, including Northern Michigan. Check out our Things to Do page and get ready to enjoy the trip of a lifetime!
Start planning your vacation today by booking one of our rentals. We look forward to welcoming you to the Freshwater family!