So you just got home from a day of adventure, and don't feel like going back out to eat. Well, there are plenty of Northern Michigan takeout restaurants offering delicious fare. Keep reading to check out some of our favorite places to grab food. 
For more ways to make the most of your time in Northern Michigan, be sure to request access to our complimentary Vacation Guide!
The Best Takeout Restaurants in Northern Michigan
Bennethum's Northern Inn – Gaylord
This rustic pub in Gaylord offers a variety of steaks, seafood, and pub grub. Bennethum's Northern Inn is a great spot to grab takeout in Northern Michigan to bring back to your cozy cottage.
Boathouse Restaurant – Traverse City
If you're staying near Traverse City and want to grab some seafood to take home and enjoy, look no further than the Boathouse Restaurant. While the dining room here boasts fantastic views, it still is a great place to order food to go. 
PepeNero – Traverse City
Enjoy a romantic date night at your rental property by bringing home PepeNero. This elegant yet rustic Italian restaurant offers takeout in Northern Michigan, adding the perfect touch to an evening with your special someone. 
Firefly Restaurant – Traverse City
Sushi, burgers, sandwiches—Firefly Restaurant in Traverse City has it all. It's the perfect place to order food to go, especially if you want something quick and casual.
Red Ginger – Traverse City
Are you craving Asian fusion cuisine? Then you need to head over and grab some food from Red Ginger. This local favorite cooks up light Pan-Asian dishes like crispy spring rolls and delicious main courses like Indian Curry and Kung Pao Shrimp. They also offer a variety of sushi rolls.
That'sa Pizza – Traverse City
Need a hot, cheesy pizza to fill you up after a day of exploring in the great outdoors? That'sa Pizza offer takeout in Northern Michigan so you can bring your pie home and dig in with the entire family!
North Peak Brewing Company – Traverse City
Who doesn't love relaxing with a cold, frothy brew at their rental cabin after a day of fishing, hiking, or boating in Northern Michigan? North Peak Brewing Company offers pizza, salads, sandwiches, and more for takeout in the Traverse City area. You can also grab a growler and take it home with you.
Plan Your Northern Michigan Escape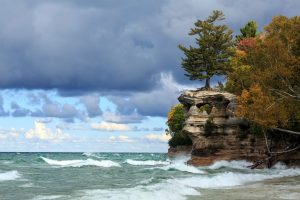 Whether you want to explore Michigan's beautiful shoreline by kayak, hike through gorgeous forests, or relax by a serene lake, Freshwater Vacation Rentals has the perfect property for you and your family. We offer an array of rentals across the state, from the Upper Peninsula to Western Michigan. Of course, if you're staying in the Northern Michigan area, you can check out our Northern Michigan cabin rentals and the Things to Do page highlighting the top activities and attractions.
Start planning your trip to the Wolverine State today by booking one of our properties. We look forward to welcoming you to the Freshwater Vacation Rentals family.