The Wolverine State is one of the great pioneers in the new age of craft beer. Thousands of breweries dot the state, but if you want to experience the heart and soul of this culture, there is a series of West Michigan breweries that you need to visit. Of course, there are hundreds of these establishments in the area, so we narrowed it down to our top eight.
For more ways to make the most of your Michigan experience, make sure you request access to our complimentary Vacation Guide! 
The Top 8 West Michigan Breweries 
Brewery Vivant – Grand Rapids
Grand Rapids is home to a plethora of West Michigan's top breweries, but this one arguably provides one of the most unique experiences. Step inside of the doors to this former chapel for a taste of Michigan Farmhouse ales that are evocative of Belgian and French Trappist brews. Brewery Vivant's menu is full of tasty French fare that pairs perfectly with their beers. If you only have time to visit one brewery in Grand Rapids, make this your stop.
The Mitten Brewing Company – Grand Rapids
With several locations along the coast of West Michigan, The Mitten Brewing Company is one of the heavy hitters of the Wolverine State's craft brewing craze. You can enjoy an extensive selection of house-brewed beers while taking in the baseball decor in what was once an old Victorian-age firehouse,
Founders Brewing Co. – Grand Rapids
You might recognize the Founders Brewing Co. label from your local grocery store. This microbrewery expanded its reach across the country, but their Grand Rapids location is where it all started. Their downtown taproom is one of the top places to grab an authentic craft beer from a company that helped put West Michigan breweries on the map.
Greyline Brewing Company – Grand Rapids
A collection of seasonal and year-round beers highlight the menu at Greyline Brewing Company. This brewery sits on the outskirts of Grand Rapids, but its combination of tacos, sliders, sandwiches, and beers make it worth the drive.
Harmony Brewing Company – Grand Rapids
Pizza and beer—few culinary pairings are better than a cheesy pizza and a fresh brew. Harmony Brewing Company offers to locations in Grand Rapids, but the spot in downtown is hard to beat, especially if you want to go brewery hopping!
Saugatuck Brewing Company – Saugatuck
If you don't want to venture up to Grand Rapids (although we recommend that you do), Saugatuck Brewing Company is a fantastic place to grab food and a beer. Their extensive menu is full of tasty pub grub, and they feature live music on most nights!
North Pier Brewing Company – Benton Harbor
If you're searching for some of the best West Michigan breweries along the lake, head to North Pier Brewing Company. This microbrewery and pub has almost a dozen beers on tap year-round along with a great menu and list of events.
Greenbush Brewing Co. – Sawyer
Greenbush Brewing Co. is home to a dozen house-brewed beers on tap that pair well with their menu that features finger-licking BBQ. This West Michigan brewery is in the sleepy town of Sawyer, located in between New Buffalo and Bridgman, so it's a great place to hang out if you're staying close to the Indiana-Michigan border.
Discover Your Michigan Getaway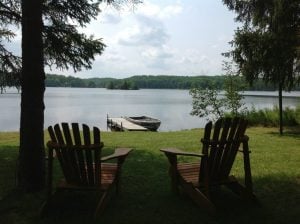 Our state is full of incredible adventures around every corner, and there's no better place to stay than one of our Freshwater Vacation Rental cabins in Western Michigan! Our extensive list of rentals features unique lodging in every part of the state, so you can enjoy everything from the beaches and breweries of West Michigan to the rugged landscapes of the Upper Peninsula! All you have to do is choose your destination!
Start planning your Michigan vacation today by booking one of our properties. We look forward to welcoming you to the Freshwater family!