The Wolverine State is full of wild and wonderful adventures. From snowmobiling in the Upper Peninsula to fishing the fertile waters of the Au Sable River, you can experience something that is fun and exciting regardless of the season. Of course, there are other ways to enjoy your trip to Michigan. Burgeoning craft beer and art scenes provide unique ways to immerse yourself in the local culture. The West Michigan Symphony offers an incredible feast for your ears. 
If you want to discover more great insider tips and information on the best things to do and places to see in the Wolverine State, request access to our complimentary Vacation Guide!
What and Where Is the West Michigan Symphony?
The West Michigan Symphony is an orchestra located in the city of Muskegon on the coast of Lake Michigan. This incredible group of musicians performs in the elaborate Frauenthal Center. Performances take place throughout the year, especially during the holiday season, that are perfect for those looking for a fun date night activity. Muskegon is only a 45-minute drive from Grand Rapids, and there are plenty of Freshwater Vacation Rentals properties within a short driving distance.
2 Reasons You Need to Experience West Michigan Symphony
1. Listen to Sensational Music
A night at the West Michigan Symphony is one to remember. Director Scott Peck coordinates a variety of excellent compositions that string you along on a musical journey through different seasons, themes, and styles. You may experience anything from Vivaldi's Four Seasons to one of Beethoven's "Moonlight Sonata." One thing is for sure about your visit to the West Michigan Symphony; it's a can't-miss event if you're an art and music enthusiast.
2. Soak in the  Beautiful Venue
The Frauenthal Center is a gorgeous venue. The West Michigan Symphony calls this theater in the heart of up-and-coming downtown Muskegon home. Inside of the Art Deco exterior lies rows of theater seats surrounded by ornate accents and a second-floor balcony. The setting is perfect for enjoying a classical composition with a twist. Trust us; you won't want to miss out on taking in one of the West Michigan Symphony's performances!
Discover the Beautiful Coast of West Michigan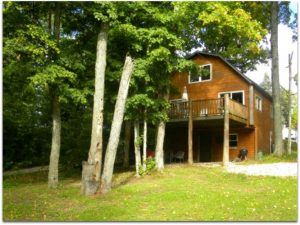 Are you ready to discover what a trip to Michigan entails? Freshwater Vacation Rentals has the perfect property for you and your family. From large group homes to small cottages, you'll find a wide range of incredible places to stay across the state. Check out our West Michigan rentals for easy access to miles of gorgeous beaches, Grand Rapids, and tons of outdoor activities. Don't forget to take a look at our West Michigan Things to Do page for even more ways to experience this diverse and exciting region of our state.
Start planning your getaway to the Wolverine State today by booking one of our properties. We look forward to welcoming you to the Freshwater Vacation Rentals family. We love Michigan, and we know you will too!