Mackinac Island – "The Jewel of the Great Lakes" is a popular tourist attraction and rated as a top 10 island in the world by Conde Nast Traveller. With a lack of cars and an overabundance of nature, Mackinac Island is famous for its festivals, scenic views, and idyllic charm. When you are planning your trip to the Upper Peninsula, make sure to use our vacation guide to find the best restaurants, outfitters, and tour companies to best experience what Michigan has to offer!
Our Favorite Festivals on Mackinac Island
Mackinac Island Lilac Festival
Michigan's Mackinac Island proudly hosts the annual Mackinac Island Lilac Festival. Prepare to be transported back in time as you watch Clydesdale-drawn floats through the historic parade. Held during the beginning of the lilac season, the event draws thousands of visitors to see the flowers bloom annually since 1949.
Lasting 10 days, the festival features events such as A Taste of Mackinac Culinary Event, Mackinac Island Dog and Pony Show, and The Lilac Festival Grand Parade. Side events like the Lilac Festival Run/Walk and the Michigan Cornhole Tournament are also popular with festivalgoers. Make sure to book your stay ahead of time as this one tends to fill quickly.
View this post on Instagram
Mackinac Island Fudge Festival
If you know anything at all about Mackinac Island, you know that it is famous for its fudge -creamy, sinfully delicious fudge. It comes in so many different flavors – French Vanilla, Amaretto Chocolate Chip, Butter Pecan, Peanut Butter, Chocolate Nut, and Plain Chocolate just to name a few. If you are a big fudge fanatic, you have to experience the annual Mackinac Island Fudge Festival.
The three-day event features contests, demonstrations, scavenger hunts, and a whole lot of fudge. The end of August belongs to the fudge each year on Mackinac Island!
Horse-drawn Carriages and Bikes over Cars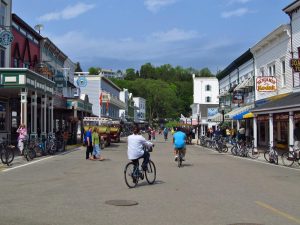 Originally banned in fear of disturbing the horses, cars are automobile non grata on Mackinac Island. To get to the island you have to take a boat ferry, and from there you can either bike around the island or take a horse-drawn taxi. In the winter, snowmobiles take over as the snow makes bike or horse travel impossible, and snowmobiles become the only viable method of travel.
A change of pace, the bike and horse culture suits the narrow roads of Mackinac Island and promotes an active adventure. Be sure to plan out your bike rental at the start of the day (or bring your own!) because Mackinac Island limits the amount of bikes businesses can rent to keep traffic flowing smoothly.
Mackinac Island has plenty of great historical sights to see and nature trails if you are looking to do guided or self-guided cycling tours!
Staying on the Upper Peninsula
If you want to stay near Mackinac Island while keeping your vehicular freedom, choose one of our nearby cabins and cottages! The Upper Peninsula is the perfect place to get away from the hustle and bustle of life while exploring a new part of the country/state! Whether you're a regular vacationer to the UP or a first-timer, we have the perfect vacation rental for you!