Mackinac Island – "The Jewel of the Great Lakes" is a popular tourist attraction and rated as a top 10 island in the world by Conde Nast Traveller. With a lack of cars and an overabundance of nature, Mackinac Island is famous for its festivals, scenic views, and idyllic charm.
To find more places to eat and drink like a local, you can fill up your glass with tons of ideas from our Michigan Vacation Guide! 
Explore "The Jewel of the Great Lakes" – Mackinac Island
MACKINAC ISLAND – "THE JEWEL OF THE GREAT LAKES"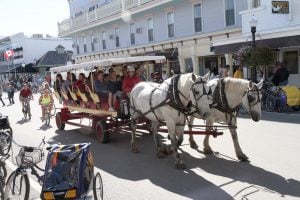 Mackinac Island is a treasure for historians, water sport enthusiasts, foodies and people who simply love sensory splendor. There are 500 year-round residents on the island which covers 3.8 square miles and is 80% state park. Conde Nast Traveller calls it "one of the top 10 islands in the world." It is located just over the Mackinac Bridge which separates Michigan's lower and upper peninsulas, on the U.P. side. No cars are allowed on the island, so a ferry provides your transportation ($26 per adult)
If you know anything at all about Mackinac Island, you know that it is famous for its fudge -creamy, sinfully delicious fudge. It comes in so many different flavors – French Vanilla,Amaretto Chocolate Chip, Butter Pecan, Peanut Butter, Chocolate Nut and Plain Chocolate just to name a few. Be sure to enjoy the annual Mackinac Island Fudge Festival. It's an unforgettable sensory experience August 24 – August 26.
The Island is also know for its horse drawn carriages, which is a magnificent way to tour the island. If instead you want to get some exercise while touring, rent one of the 1500 bikes on the island or you can always take your own bike aboard the ferry for a nominal fee. There are over 70 miles of natural and paved paths for biking and hiking over and around the island.
The Grand Hotel is a national historic landmark and its majesty is breath taking. It first opened in 1887 and hosts the worlds longest porch. In 1895 Mark Twain lectured in the hotel, and the 1980 film, Somewhere in Time, starring Christopher Reeve and Jane Seymour, was filmed at the hotel. The Grand is known for its scrumptious afternoon tea served between 3:30– 5:00 p.m. in the hotel's Parlor ($48.00 per guest). Those who are not hotel guests may pay an additional $10.00 to enjoy this delightful experience.
History buffs are drawn to explore Fort Mackinac and Fort Holmes, while those interested in water sports can go sailing, kayaking, fishing and even parasailing! You will not be bored when you go the Mackinac Island.
Freshwater Vacation Rentals has cabins and cottages a short drive from Mackinac Island. Check out Eagle Point Cottage, East Lake Cottage, Lake House Oasis, Northern Lake Michigan Getaway, Cabin in the Dunes, Indian Lake Cabins, Emerald Lake House, Riverdale Hideaway, Merry Mullett Lake House, Black Lake Sunset Dreams and Nettie Bay Resort properties.