The UP turns into the ultimate outdoor playground in the winter season. Whether you're skiing, exploring frozen waterfalls, or soaking in a local festival, there are plenty of ways to enjoy the snow in the Upper Peninsula of Michigan. Keep reading to discover some of our favorite cold–weather activities in the northern region of our great state. 
If you want to make the most of your winter getaway to the UP, be sure to request access to our complimentary Vacation Guide. It's full of the best things to do and places to see in our area! 
Our Favorite Ways to Enjoy the Snow in the
Upper Peninsula
of Michigan
1. Discover Frozen Waterfalls
Munising, Pictured Rocks National Lakeshore, and Tahquamenon Falls State Park are some of the best places to enjoy the snow in the Upper Peninsula of Michigan. All of these beautiful locations transform into a winter wonderland with frozen waterfalls cascading into the icy waters below. You can watch daring outdoors enthusiasts climb frozen water cascades near Pictured Rocks National Lakeshore, and in some cases, there are free clinics offered for beginners. Tahquamenon Falls doesn't freeze over, but it's still a fantastic place to stop due to the sheer sight of the second largest waterfall east of the Mississippi River. 
2. Drive a Snowmobile Through the UP
Snowmobiling is one of our favorite ways to enjoy the snow in the Upper Peninsula of Michigan. There are four main trail systems to cruise along in the UP: Munising, Sault Ste. Marie, Paradise, and Marquette. A couple of these trails connect so you cruise around on a journey through miles and miles of the beautiful snow-covered woods between Munising, Marquette, and Pictured Rocks National Lakeshore. Adrenaline junkies will especially love this exciting winter activity. 
3. Enjoy Winter Festivities
When you visit the UP during the winter season, you'll discover an array of incredible festivals and events. From the Tahquamenon Sled Dog Race to the Michigan Ice Fest, there are plenty of ways to make the most of the Upper Peninsula snowfall.  
4. Hit the Slopes
 There are several excellent ski areas throughout the UP. Mount Bohemia, Big Powderhorn Mountain Resort, and Blackjack and Indianhead Mountain are among some of our favorites. Whether you want budget slopes or high-class thrills, you'll find the perfect ski area for your family!  
Plan Your 
UP Winter
Escape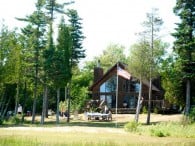 If you want to find the perfect vacation rental in the Wolverine State, look no further than Freshwater Vacation Rentals! We have an extensive collection of properties in every corner of the state, including the Upper Peninsula of Michigan. Check out our Things to Do page and get ready to enjoy the trip of a lifetime! 
Start planning your vacation today by booking one of our Michigan cabin rentals. We look forward to welcoming you to the Freshwater family.