Once the snow begins to fall in our state, it transforms into a winter wonderland. There are plenty of ways to explore it but taking the family on one of the sleigh rides in Northern Michigan is truly magical. Enjoy a relaxing journey through the beautiful woods and rolling hills as you soak in the picturesque scenery. 
If you want to discover more ways to make the most of your winter getaway to the Wolverine State, be sure to request access to our complimentary Vacation Guide. It's full of the best things to do and places to see in each region! 
You Need to Check Out These 
Sleigh Rides in Northern Michigan
Fantail Farm Wagon & Sleigh Rides
 – 
Benzonia
If you're searching for one of the best sleigh rides in Northern Michigan, head to the Fantail Farm in Benzonia. Book either a private or a group ride through the beautiful woods of the Wolverine State blanketed in snow. You may even get a glimpse of Whitetail deer and Bald Eagles! 
Antler Ridge Farms
 – Williamsburg
Antler Ridge Farms offers fantastic sleigh rides near Traverse City. This local farm begins their sleigh riding season the week of Christmas and continues through the rest of winter on weekends. It's a great way to see the beautiful winter beauty of Northern Michigan's rolling fields and enchanting woods. 
Black Horse Farm
 – Empire
Another excellent sleigh ride option near Traverse City is Black Horse Farm. The dense woods and hilly terrain surrounding the Empire area are home to some of the most beautiful winter scenery in Northern Michigan. They run through the entire winter season and can fit up to 12 people in a sleigh. 
Cook Family Farm – Gaylord
The Cook Family Farm offers some of the top sleigh rides in Northern Michigan for families. These trips take you on a magical winter adventure through the beautiful backcountry of Gaylord. You can book a private sleigh ride on the weekend or weekdays for up to 12 people. Afterward, you can enjoy hot cocoa and cookies! 
Crystal Mountain
 – 
Thompsonville
Crystal Mountain in Thompsonville is home to a winter wonderland in and of itself. This quaint and charming resort area is not only home to some of the best skiing in Northern Michigan, but it also offers tons of activities, including sleigh rides! You and your family can enjoy a relaxing ride on the snow-lined streets before sipping hot chocolate around a fire. 
Plan Your Northern Michigan Winter Retreat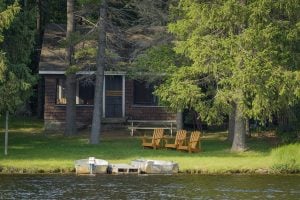 Are you searching for your ideal Michigan rental for your winter vacation? Well, look no further than Freshwater Vacation Rentals! Our collection of cottages and homes feature a variety of sizes and locations around Northern Michigan, from Traverse City to the Crystal Mountain area. We also have properties in the Upper Peninsula, Eastern Michigan, and West Michigan, leaving you with plenty of choices for your trip! 
Start planning your getaway today by booking one of our properties. We look forward to welcoming you to the Freshwater family.