The Wolverine State is home to an endless selection of outdoor adventures. While it may not seem like an extreme excursion, hiking is one of the best and easiest ways to experience the natural beauty of our great state, especially on the trails in Northern Michigan! So, lace up your hiking boots and get ready to hit the trail! 
For more ways to make the most of your Michigan adventure, be sure to request access to our complimentary Vacation Guide! 
The Best 
Northern Michigan Trails
Interlochen State Park
If you want to enjoy a pleasant day of picnicking and fishing, head to Interlochen State Park. This 187-acre tract of land offers miles of lake shoreline that's exceptionally beautiful during autumn. You can also enjoy swimming on the beach! 
Alligator Hill Trail
The Alligator Hill Trail lies wedged between Lake Michigan, Sleeping Bear Dunes National Lakeshore, and Glen Lake. This park consists of nine miles of Northern Michigan trails looping through beautiful forests. There is also a series of old, abandoned charcoal kilns from the 1950s near the trailhead. 
Empire Bluff Trail
The Empire Bluff Trail is only a short drive south from the Alligator Hill Trail and features a .75-mile pathway. This out-and-back trail takes you from the parking lot through the woods and finally pops out at a scenic overlook at the beach. It's a short trek with a few hills and fantastic views. 
Glacial
 Hills 
Pathway and Natural Area Trailhead
With over 765 acres of beautiful nature and over 30 miles of trails, the Glacial Hill Pathway and Natural Area Trailhead is a biker and hikers dream come true. This is one of the most popular Northern Michigan trails, especially for those wanting to get away from the hustle and bustle of city living. 
Bear River Valley Recreation Area
If you're hanging out in Petoskey for the day, you need to stop by the Bear River Valley Recreation Area. You can walk to this urban park from the small downtown area, where you will pass by Bayfront Park, the marina, the picturesque bear river, and a peaceful wooded area. It's a great place to go for a relaxing stroll after grabbing a bite to eat. 
Leelanau Trail Cherry Bend Rd Trailhead
The Leelanau Trail spans 17 miles of this beautiful peninsula that branches off from the Cherry Ben Trailhead. It's a short drive from Traverse City and well worth exploring if you want to go for a casual bike ride for a couple of miles before turning around and heading back. 
Plan Your Northern Michigan Adventure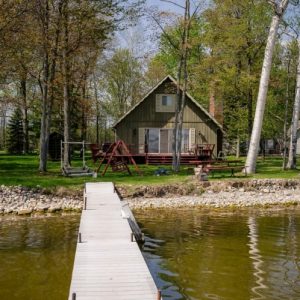 If you want to find the perfect vacation rental in the Wolverine State, look no further than Freshwater Vacation Rentals! We have an extensive collection of properties in every corner of the state, including Northern Michigan. Check out our Things to Do page and get ready to enjoy the trip of a lifetime! 
Start planning your vacation today by booking one of our rentals. We look forward to welcoming you to the